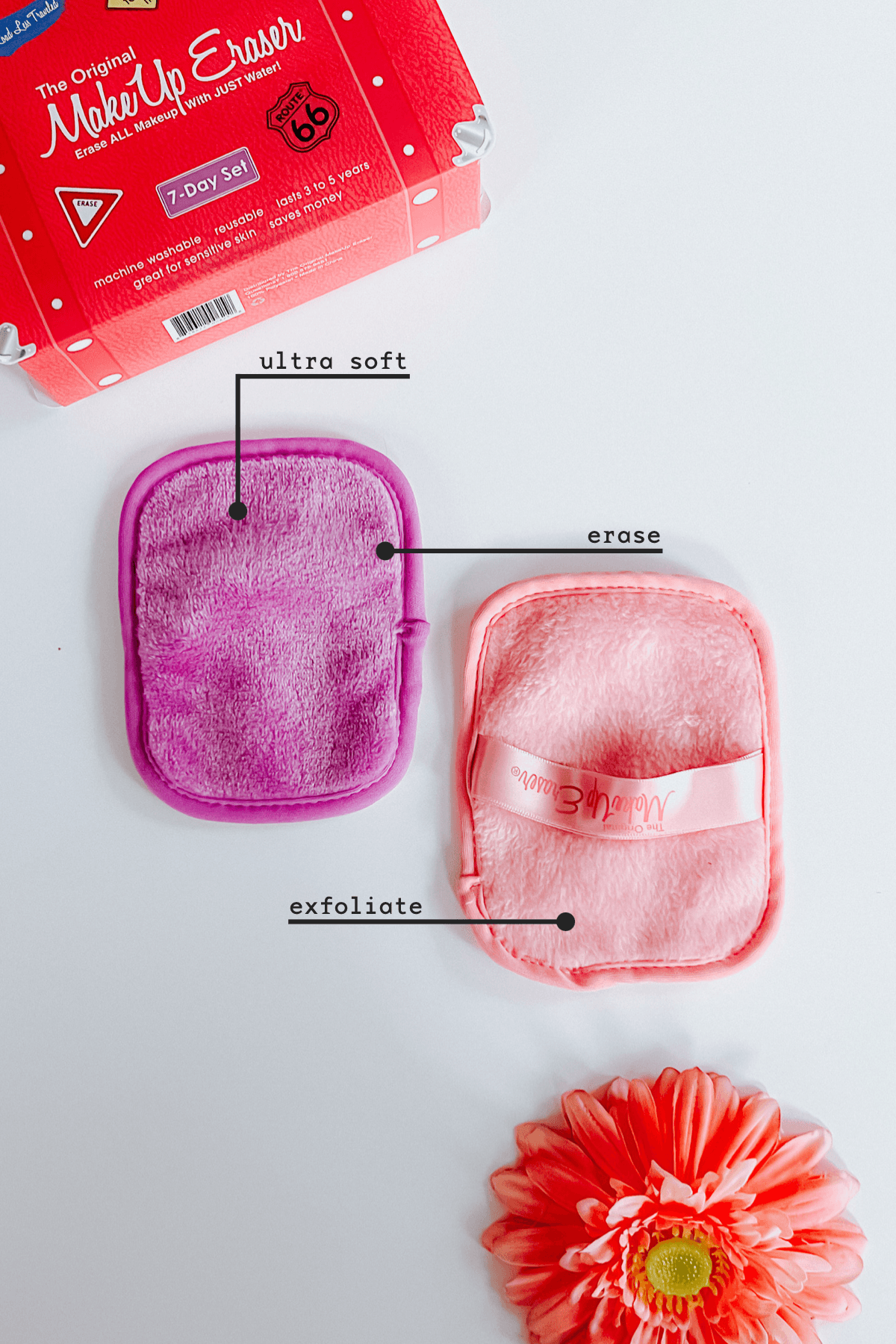 The Original MakeUp Eraser • Road Less Traveled 7-Day Set
The #1 sustainable makeup remover in the world. Erase ALL Makeup With JUST Water! Including waterproof mascara, eyeliner, foundation, lipstick, & more!
The Original MakeUp Eraser is a premium, patented, polyester cloth made up of millions of tiny hair-like fibers that work together to create a "suction" for all dirt, makeup, & oil in your pores. Double-sided to erase makeup with the short fibers side & exfoliate the skin with the long fiber side (side with tag). Reusable, machine washable, & lasts 3 to 5 years.
1 MakeUp Eraser is equal to 3600 makeup wipes! No chemicals, less waste. Ultra soft, dermatologist approved, & great for sensitive skin. 
Free of alcohol, oils, astringents, parabens, fragrances, & sulfates. #nomorewipes
Road Less Traveled 7-Day Set includes: 7 MakeUp Erasers



Mini MakeUp Eraser measures approx

. 5in x 4in.

Dermatologist approved
Hypoallergenic
Cruelty-free
100% vegan
Eco-friendly 
EU approved

Machine washable

Reusable
No chemicals
Less waste

Lasts 3 to 5 years

Face + lip exfoliator

Great for sensitive skin

Saves money
100% Polyester.

No added chemicals.

Free of alcohol, oils, astringents, parabens, fragrances, & sulfates.
HOW TO USE: 
Wash
Machine wash hot & dry with your towel load. Fabric softener & dryer sheet safe. *Machine wash before first use to activate fibers.
Wet
Soak in warm water. The warmer, the wetter, the better! PRO TIP: Use in sections, wash approx. 1-2 times per week.
Erase & Exfoliate
Use the short fiber side to erase makeup in gentle circular motions. Then flip to long fiber side (side with tag) to exfoliate the skin.
This clothing is incredible and I am confident you will love it but hey, online shopping can be difficult sometimes.
POLICY
If for any reason you aren't satisfied then I will accept returns unworn, unwashed, free of any stains, visible wear, smells, or animal hair with tags still attached mailed within 14 days of receipt for a refund to your original form of payment for the cost of the item. 
➕ If a gift card was used/partially used on your order then your refund will be issued to that original form of payment first. 
➕ Shipping and Route Insurance fees are non refundable and return shipping is the customer's responsibility. 
➕ Any items returned without approval and/or outside the 14 day return window will be returned to you. 
➕ Exclusions apply. Sale items and certain items such as intimates are final sale. See below for more information.
STORE CREDIT POLICY
Atomic Wildflower now offers FREE RETURNS when you select "store credit" as your refund method. Once your return is approved, a return shipping label will be sent to you free of charge!! Once your return is received you will be issued an e-gift card to be used at Atomic Wildflower. 

➕ Free returns are not eligible for international orders. 

➕ Returns for store credit are still subject to the rules of the original return policy. 

➕ Returns will only be provided ONE RETURN LABEL PER ORDER so please be sure you have received all of your items in your order before submitting your return to the returns portal. 

➕ If you are returning multiple items from one order, you can put all of those items in one package and use the one return label that has been e-mailed to you as long as you have submitted and received approval for all returns within the same order. 

➕ Labels cannot be used more than once. If a label is used more than once to return multiple items, Atomic Wildflower reserves the right to withhold additional funds from a return to cover the return shipping cost. 
PRE-ORDERS
Once a pre-order is placed it is subject to the original return policy. You may not cancel the order but returning for refund or store credit is permissible upon receipt of the item. Your 14 day return window begins the moment your order is delivered :) 
ORDER CANCELLATIONS/CHANGES
Unfortunately once an order is placed I can not change or cancel the order. I ship out of two warehouses and my warehouse teams are super speedy and often have orders processed within minutes of your order. Once an order is placed it is subject to the original return policy.
UNDELIVERABLE/RETURN TO SENDER
If a shipment is unable to be delivered or the customer chooses to return to sender, the customer is responsible for any fees or costs of the return and the original shipping costs. The total amount will be deducted from the customer's refund. Please be sure your address is correct when placing your order. See more about our shipping policies here.
SALE ITEMS
Sale items, including items in the "Last Chance Sale Collection" as well as all sales or promotions are final sale and cannot be returned or exchanged. Coupon codes such as the 10% coupon for signing up to the Atomic Wildflower newsletter, free shipping promos or gifted email promo codes are not included or considered "Sale Items". Shoot me a message or an email if you're unsure about your discount anytime! Please be certain before purchasing sale items. I am happy to answer any and all questions prior to purchase of sale items so you can feel secure in any final sale purchase! Just shoot me an email :D
SWIMWEAR
Items must be in new, unused, and in sellable condition with hygienic lining in place, if applicable. I suggest trying bottoms on over underwear too to avoid any return issues. Swimsuits and swimsuit bottoms returned without the hygienic liner intact and in place will be returned to you.
SHOES
Shoes must be in their original box or bag and unworn free of all things mentioned above. Please try on your shoes inside on carpet wearing socks for a super awesome, easy return process :) Please do not tape up or put a label on the original shoebox. The shoebox (for shoes that come in original box packaging) must be in tact to receive a refund.
EXCHANGES
Due to the nature of inventory stock and items selling quickly I can't always guarantee availability for exchanges. Instead I offer straight refunds so if you're hoping to exchange for a new size you will be able to PURCHASE your exchange if it is in stock. I do my best to carry enough inventory to meet demand but sometimes items do sell out fast. If you would like to ensure you are able to secure the item you wish to exchange for you may simply purchase it ahead and I will refund your return once I receive it :D
FINAL SALE ITEMS
Due to hygiene reasons, accessories such as hats, headbands, and jewelry as well as intimates such as bralettes are final sale only.
DEFECTS
I do my very best to inspect all items before heading your way but if for any reason there is a defect of some kind I may have missed, I will cover return shipping and get you refunded as soon as I receive your return. Just select "Item is defective" when you fill out the returns form below and a return shipping label will be issued to you. 

IMPORTANT NOTE: Items will be inspected once received and if no defect is found you will be refunded minus the cost of the return shipping label. Returns are still subject to the 14 day return policy.
AWESOME, SO WHAT'S NEXT?
1. Initiate your return by filling out the form in the customer return portal.
2. Package your return up all perfect and mail it to: 
Atomic Wildflower 
89 Babbling Brook Road
Torrington CT 06790 
.......and that's it!!! Returns will be processed within 2 business days upon receiving your item. Reminder, any items returned without approval and/or outside the 14 day return window will be returned to you so be sure to fill out the above form and return promptly :)
Atomic Wildflower curates clothing from all over the globe so sizing may vary by manufacturer. This standard size chart should help you get the best possible fit for all of our styles. For more information on how any individual item may fit based on this chart be sure to check in the item description for sizing recommendations.
NEED TO GET IN TOUCH WITH ME?
Sizing questions? Questions about returns? Use thecontact form or email me directly. I usually answer within 24 hours :)